Artisan 70D
Main bed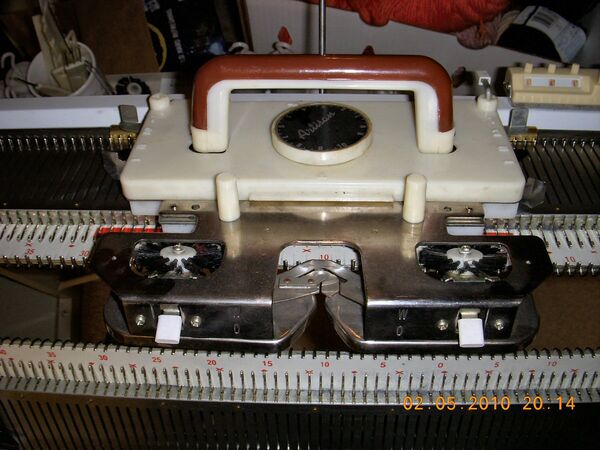 Ribber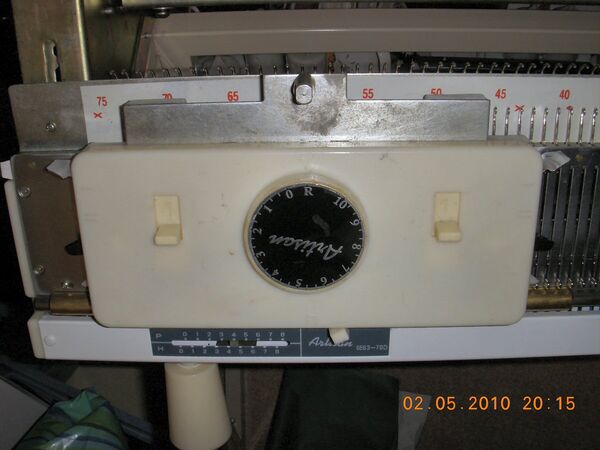 The Artisan 70D is a 7mm mid-gauge machine (same gauge as Brother KX350), with a fixed double bed. It is a manual patterning machine, which can do tuck, slip, knitweave, intarsia (with seperate carriage) and two colour work. This is a Chinese made machine, and is completely utilitarian, it is not a pretty machine by any means. The plastic is cheap looking but strong, as is the metal, the newer machines are much improved in quality, and intarsia is built into the main carriage. However, the 70D knits like a dream, and knits whatever yarn you throw at it, rarely dropping a stitch. It comes complete with it's own VERY STRUDY stand (best I have ever used), the machine is bolted down to the stand, and is very heavy. All tools, manuals, cast-on combs for both single bed and double bed knitting are included.
A very good mid-gauge, built to last and very nicely priced too.

Specifications
7mm mid gauge machine
Fixed double-bed machine (ribber drops down for access to main bed only)
Recommended Yarn
Patterning
This model has the following stitches / patterning inbuilt:

stockinette
slip
tuck
fair isle??
intarsia
motif
plating
Accessories included with Machine
Row counter
Instruction Book Operating Manual
1x2 transfer tool
1x3 transfer tool
2x3 transfer tool
2 claw weights
Ravel cord
Oil bottle
Table clamps
tension mast
Care and Maintenance

Generic knitting machine maintenance here
Community content is available under
CC-BY-SA
unless otherwise noted.