The Bond knitting machine was invented in the UK in 1981 by Roger Curry. It is a plastic machine, 8mm gauge, whose bed sections are modular in construction. This means it is possible to extend the machine as desired. The original UK machine was burgundy (later, navy blue) with a black and grey carriage. Stitch sizes are changed by swapping a plastic "keyplate" which comes in four sizes. There was also a ribber available, this was another machine with a butterfly-shaped connector. There is no tension mast on the machine and there is no automatic patterning. Various positions of the needles are manually set by using various bits of coloured card. Casting on is done using a nylon hem and some ravel cord.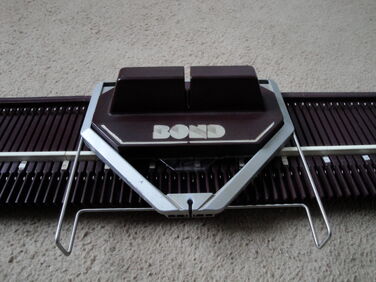 It was later sold in the US as the Incredible Sweater Machine and the Ultimate sweater machine. The design was improved and the bed/carriage are now grey (the carriage is purple in some versions). It is no longer available in the UK except on the second-hand market.
It is considered to be a very basic beginner's machine by the general machine knitting community.
A letter from the inventor and some further thoughts here.
Lots of useful information here.
Community content is available under
CC-BY-SA
unless otherwise noted.