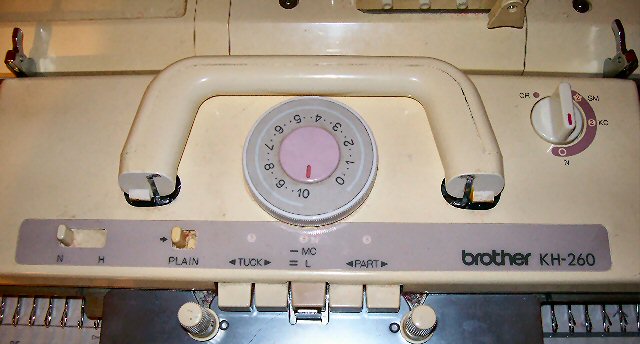 The KH260 is a 9mm gauge punchcard machine. The carriage can perform tuck, slip, fairisle and punch lace (fairisle button is split for dual function). The carriage also has a motif setting and the machine came with motif cams.
Specifications
Single bed knitting machine
Chunky 9mm needle gauge
24st punchcard patterning
Can produce an incredible variety stitches, including tuck, slip, fairisle, punch lace
Metal bed
114 needles
Recommended yarn
Knits from english DK up to chunky yarns eg aran, US worsted.
11 wpi to 7-8 wpi
Yarn council: light (3) to superbulky (6) 
Can take double-worsted EON (Every Other Needle) but it can be hard work and not recommended - it halves the number of needles available.  
Accessories included with machine
Cast on comb (long)
Cast on comb (short)
2 small weights
5 large weights
2 clamps
Spare needles
Row counter
Tension mast
Set of punchcards
Available accessories (sold separately)
Community content is available under
CC-BY-SA
unless otherwise noted.