An industrial hand-flat is a hand operated industrial knitting machine with a flat bed (as opposed to a circular bed). The Swiss company Dubied produced hand-flats in a variety of gauges from 14 - 1.5 (needs verification). A 14gg machine has 14 needles per inch and produces very fine, lightweight fabric and the 1.5gg machine produces chunky fabric.
The Dubied hand-flats have a v-bed meaning they have two opposing bed that meet in an upside down V formation.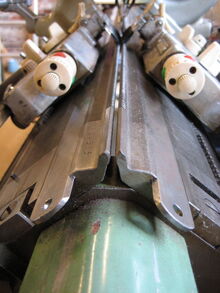 These machines are capable of knit, tuck and slip stitches. The type of stitch is selected by moving cams to different positions.
The machines take two different types of needles referred to as high and low butt or long and short butt needles.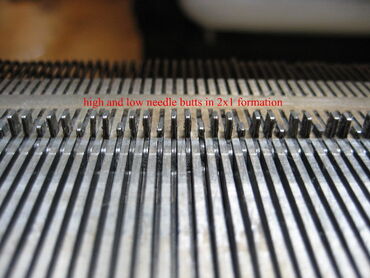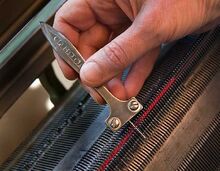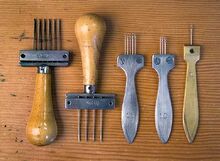 Further patterning can be achieved by placing the needles in different formations and using the cams to select the different needles to either knit, tuck or slip. An unlimited variety of fabrics can be produced by combining use of the racking handle with the knit/slip/tuck cams, colour striping, transferring needles with a transfer tool and high and low butt needle formation.
These machines were used primarily in factories to produce sample garments and small production runs. Nowadays they are found mostly in schools and small design studios. They are no longer being manufactured but occasionally crop up on ebay in various states of disrepair. Tortex Engineering in England sells refurbished models in all gauges plus accessories such as needles, combs etc.
Community content is available under
CC-BY-SA
unless otherwise noted.