Jurassic World: Dominion Dominates Fandom Wikis - The Loop
Play Sound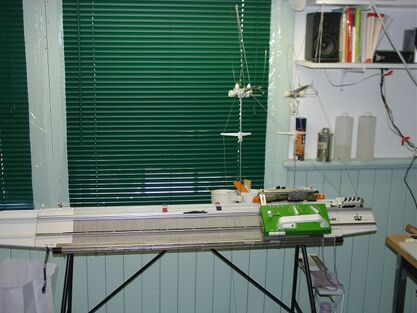 The Passap Duomatic 80 is a true double bed machine. Patterning is accomplished indirectly on the needles by the use of pusher which operate on the needles. The pushers can be set manually or by way of a Deco card reader attachment or a Jac40. The lock can be set to reverse the setting of the pushers.
The lock (equivalent to a carriage on other brands of machine) is used to do the actual knitting. There is a lock on each bed and they are identical in function. Patterning can be accomplished on both beds and identical knitting can be produced from either bed.
The lock can be set to Knit, Slip or Tuck stitches. Addtional settings allow for easy circular knitting of any of these choices, alternating between the beds to form a tubular knitted piece.
There are two and four colour changers available. The two colour was standard but most machines were sold with a four colour changer. The colour changer allows the knitter to change the yarn in the feeder on the lock easily, alternating between a pair of yarns or changing which of the four available as needed.
The Passap allows the use of only one yarn in the feeder at a time, so fairisle knitting is accomplished by the slip method - the first colour is knit then the yarn is changed and the second colour is knit, filling in all the unknitted stitches.
Specifications
Double bed knitting machine
Standard 5mm needle gauge
40 stitch repeating pattern area
Punch card patterning with Passap Deco
180 (approx) needle metal bed
Stitch types include fair isle, tuck, slip, punch lace, knit weave, plaiting, and motifs
Dimensions: TBA
Weight: TBA
Made in Switzerland
Recommended yarn
English: 1ply up to light DK
Australia: TBA
US: TBA
Accessories included with machine
Early machines came with a 2-color changer, but later may have come with a 4-color changer
Available accessories (sold separately)
Passap Deco - Punch card reader
Passap Jaq 40 - Punch card reader that predates the Deco system
Passap U70 - Transfer Carriage
Passap U80 - Transfer Carriage
Passap U100 - Transfer Carriage
Passap Tricofit - Cast off machine
Passap Pico - Intarsia
Passap Electra 3000A - Motor
Passap Electra 4000 - Motor